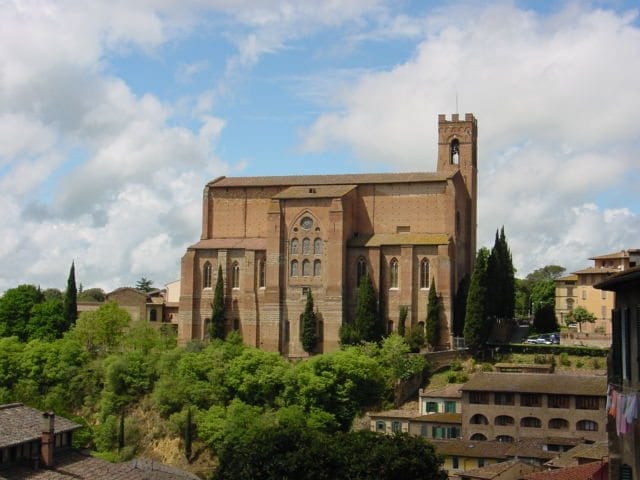 The church of Sant'Agostino faces onto the broad Prato of the same name.
The church was founded in 1258, remodelled in the 15th century, and then given a radical transformation in 1755 by the famous architect Luigi Vanvitelli who also designed the Reggia for the Bourbon royal family in Caserta, near Naples.
A neoclassical doorway leads into the church which is now used for exhibitions.
The interior, done in an elegant but solemn baroque style by Vanvitelli, houses a notable collection of artworks.
On the second altar, you can see a splendid painting of Christ on the Cross with Saints, painted by Pietro Perugino in 1506.
Then there is the Piccolomini chapel with a Massacre of the Innocents on the right-hand wall, painted in 1482 by Matteo di Giovanni.
In the Bicchi Chapel in the right transept, some Renaissance monochrome frescoes have recently been rediscovered. These are of enormous artistic interest and are the work of Luca Signorelli and Francesco di Gorgio Martelli.
The high altar in polychrome marble is a true 17th century scenographic work. The angels on the side of the canopy are by the Sienese sculptor Giovanni Mazzuoli.
On the left-hand wall, there is a painting of the Conception of the Blessed Virgin, the work of Carlo Maratta, the leading painter working in Rome at the end of the 17th century.
Going out again into the Prato, you realise how spectacular the church's position is in relation to the city's panorama. Go into Via delle Cerchia which opens into the vast open space called Pian dei Mantellini where the church of San Niccolò al Carmine, better known as Santa Maria del Carmine, is situated.